BULLETIN
Bulletin No: 045 | 17 April 2019
TO: ALL UFU MEMBERS
KILL TOXIC DUMPING BEFORE IT KILLS OUR FIREFIGHTERS
UFU awareness campaign continues
As members would now be aware, the UFU launched a campaign to create awareness in the community about the serious health effects UFU members have suffered as a result of their attendance at these chemical blazes.
Today, the UFU revealed a full-page ad in The Age newspaper bringing the issue of firefighter health risks to the community's attention and urging the community to support harsh penalties for unscrupulous operators and to dob in a dumper to Crime Stoppers.
We encourage all UFU members to share this ad (below) on their social media and with their family and friends.
What is the current situation career firefighters are faced with?
There are a number of unscrupulous operators currently involved in the illegal or unregulated transportation, dumping and stockpiling of toxic chemical waste in Melbourne
Career firefighters responding to these fires are confronted with an unknown cocktail of toxic chemicals, putting firefighter health and safety at serious risk despite their personal protective equipment.
The Union is seeking the following to be included in legislation to better protect our career firefighters and the community:
Criminal sanctions inclusive of incarceration;
The ability for significant penalties against companies, their directors and persons associated with a company engaged in the illegal activity;
The ability for career firefighters and/or their families to sue persons individually who are responded for engaging in illegal transporting and dumping of chemical waste.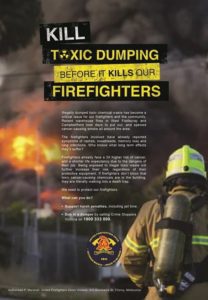 Strength in Unity
READ OUT AT MUSTER AND PIN ON NOTICE BOARD
Authorised by Peter Marshall, Branch Secretary