Bulletin No: 236           Volume:  21      Monday 1st December 2015
To all CFA and MFB members
A FANTASTIC TURNOUT FOR THE MINISTER – NOW FOR TUESDAY'S RALLY
With less than an hour's notice, 28 firefighters turned out this morning to challenge Minister Jane Garrett over her misleading claims in the media overnight.
The Minister was at the Darebin RSL to announce a gambling initiative. But firefighters won all the media attention.
The messages for the media are that firefighters are sick of being misrepresented by this Government in its selective media leaks, and fed up with being 970 days without a new workplace agreement. This is distracting and morale-sapping. We just want a fair deal and to do our job.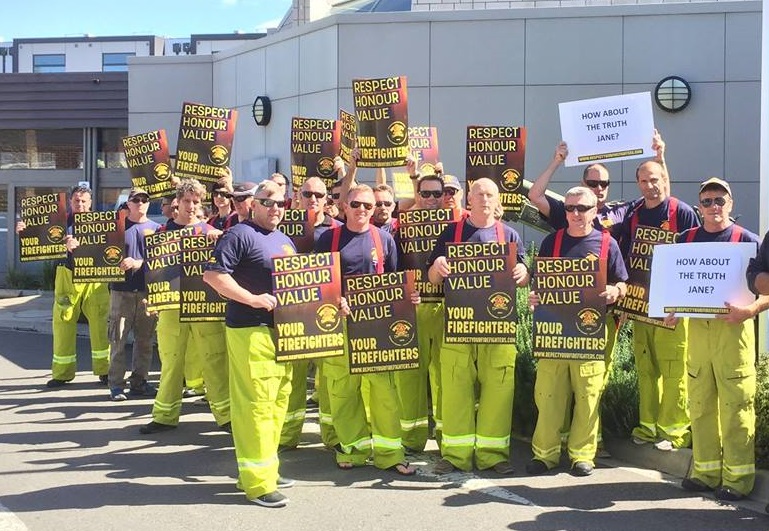 A massive thanks to those who turned up this morning at short notice. (And thanks to those who went to air on the radio.)
The Government hopes to confuse and divide us, and today's attendance was an overwhelming sign that this is not working.
Next Tuesday we need every available UFU member at the rally to send a further strong message to Government.
This is probably the most important rally of your working life to date.
Tuesday December 8 2015
Trades Hall
8.30 am barbecue
10 am march
Buses are being organised to and from the rally.
Once again the message today from the Government was "greedy firefighters": this time we're getting an $47 million over three years.
On November 4 they valued our claim at $2 billion. And our alleged wage claim has gone from 30% to 50% to 55% to 59%.
The Minister says we've been offered 14.7% over four years. (The Herald Sun says it's over three years.) But the proposed wage rise is from 2013 – when the agreements ran out, and when we had the last pay rise of 1.5% – to 2019. That's six years, or about 2.4% per year. Most years this wouldn't cover inflation – your wages would fall in real terms.
Yesterday's CFA offer lacks details. There is a list of headings of conditions, but what does 'code of conduct' or 'Board of Reference' mean? Are they in or out? We had reached agreement on these, but last week in Fair Work the Government said it had changed its mind on these and a number of other clauses.
It's time for the truth.
Strength in Unity
READ OUT AT MUSTER AND PIN ON NOTICE BOARD
Authorised by Peter Marshall, Branch Secretary