BULLETIN
Bulletin No: 064 | Friday 31 May 2019
To: ALL UFU MEMBERS
MFB/UFU PFAS BLOOD STUDY
Urgent call to MFB members: Your participation is vital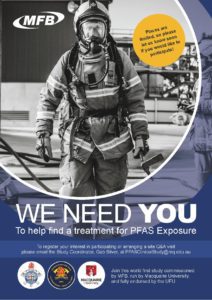 Following from UFU Bulletins #033 and #034, the UFU calls for members to participate in the MFB/UFU blood study, undertaken by Macquarie University.
This study was fought for by the Union on your behalf, in a bid to find a fix to the high PFAS levels in firefighters' blood as result of harmful exposures on the fire ground, at training colleges including Fiskville and more.
Without your participation, this study is redundant. The UFU urgently calls on MFB operational and non-operational members to participate in this study. After years of exposure to PFAS, this is an opportunity to be involved in a union-fought-for and endorsed study.
The CFA is not participating in this study. Despite the study not being run in the CFA, CFA professional members will still benefit from the outcomes as their training and work environment is the same or substantially similar to their MFB counterparts.
For more information: PFASClinicalStudy@mq.edu.au
Strength in Unity
READ OUT AT MUSTER AND PIN ON NOTICE BOARD
Authorised by Peter Marshall, Branch Secretary