BULLETIN
Bulletin No: 129 | 23 December 2020
TO: ALL UFU MEMBERS
Wishing all members and their families a Merry Christmas & a safe and healthy 2021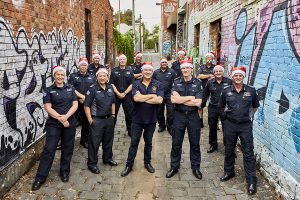 It's been a long, challenging year for the UFU. We're very thankful to be able to wish you as members a happy and Merry Christmas and a much-anticipated new year that will be focused on building upon our collective achievements from 2020.
In the long and impressive history of the UFU, the gains and improvements we've achieved in 2020, such as fire service reform, presumptive legislation, income protection, and substantial increases to firefighter staffing numbers together with unprecedented pay increases, will earmark 2020 as one of the most progressive years of our union's history.
However, there is much more work to do. Consolidation of fire service reform, implementation of the many opportunities for career development and the enhanced pay and conditions fire service reform presents to us must be strategically progressed to maximise the benefits to members.
It is only through a unified union that we can build upon our recent achievements and to do so, we must continue to engage with our parliamentary colleagues. Ultimately as public sector workers, fire service policies are determined by the government's agenda, hence why the political relationship that we have nurtured and enhanced must continue.
Staying the course and getting the job done
Next year the union will face many challenges and importantly, more than ever to overcome these challenges, I'll be asking for the Branch Committee of Management to commit to another three-year term representing you.
They have worked tirelessly and have engaged in many hours outside their normal employment, of which, I express my appreciation for their commitment and the dedication that they have shown.
To our Delegates, the backbone of our union, we look forward to engaging with you with the exciting opportunity of developing a new Delegates structure in the context of the transition to Fire Rescue Victoria (FRV).
To our Welfare Officer, Ross Fusca, we commend you for the many hours of tireless dedication in reaching out to members in need.
We are pleased to announce to members that as part of our strategic planning, in 2021, we are building upon the welfare services that we currently provide which will include the recent initiative of the BCOM, being the UFU Injured Firefighter/Member Support Group.
To our dedicated staff who have endured a sub grade working environment due to the condition of the union's building, we say thank you.
Most of all, we say thank you to you, our dedicated members. Your resolute support and dedication is what drives and guides us and we appreciate your unwavering commitment to further achievements, this can only be done with the unity we have previously displayed.

Members Hub (Development of UFU Buildings)
As a result of the good governance of your Branch Committee of Management, we are pleased to announce the purchase and redevelopment of a new union building that will afford accommodation similar to the standard that our members enjoy in their workplaces. This is long overdue, but we are now in the financial position to be able to progress this matter as the litigious attack by the previous employers has been removed in the context of the new relationship we have with FRV.
The Union prides itself on its level of representation of members and it's with pride that we reflect on the collective achievements of our Union – These collective achievements of the Victorian Branch are unprecedented in the context of any other Fire Service Union in Australia. This we can be proud of.
We are also pleased that our members are the highest paid firefighters in Australia, and this does not take into account their allowances and entitlements such as income protection.
Victorian Branch members leading the way
As part of our collective effort, we will be reaching out to other firefighting unions in other states to help them improve the unjust pay offer such as a $2.80 increase a day. This offer is coming from a progressive government that frankly, we'd expect more from.
The Victorian Branch's achievements can only be described as impressive and will provide a precedent and foundation for other Firefighting Unions across Australia.
Your Committee of Management that strives for continuous improvement
As Secretary, I look forward to representing members next year, along with your dedicated Branch Committee of Management that has provided guidance and policy for me to follow to the best of my ability and of course from your delegates and members, too, who are vital in not only formulating policy, but ensuring its implementation.
In the new year we will be announcing major new initiatives that go to the heart of the meaning of Fire Service reform. This will be the beginning of true interoperability.
Your Branch Committee of Management will also be able to continue engaging more effectively with members' aspirations as a result of gaining comprehensive feedback from the recent UFU Members Survey. I am pleased to be able to report that there has been an overwhelming uptake in the number of members completing this survey. The survey's results will form the basis for the Branch Committee of Management, Delegates and in conjunction with the membership in deciding the future direction of the UFU. We look forward to this challenge.
On behalf of your elected Branch Committee of Management, we're excited to continue representing you. As a Branch Committee of Management, we do not take for granted the solidarity and support shown by members. Together we look forward to continuing to achieve great outcomes to improve the lives of all members and their families.
On behalf of the Branch Committee of Management to our members and their families – we thank you for keeping our Union strong and we wish you a very Merry Christmas and a safe and happy 2021.
Yours in Unity
Peter Marshall – Branch Secretary
David Hamilton – Branch President
UFU Branch Committee of Management